Local Real Estate That Cares About Our Community!
Recently, we found  Mary & Z from Mc T Real Estate Group via a post about the North Park Community Garage Sale from the local San Diego real estate market Facebook group.
We wanted to highlight what this team is doing as they are uniting home owners to have beneficial events for the community. Mary & Z are dedicated to organizing events that benefit the community.
In the past, Mary & Z have done events to support the community with pet adoptions and other positive impacts. Just organizing home owners to do something together does so much for the community concept. 
The North Park Community Garage Sale Event
This Saturday, the North Park Community Garage Sale will be taking place, bringing together over 65 wonderful San Diego neighbors for a day of removing clutter or unwanted "out with the old, and in with the new", sharing of treasures, and camaraderie.
This event has extensive advertising efforts spanning across the County! Mary & Z are expecting a fantastic turnout, and working to make it an event you won't want to miss!
Join Us at the North Park Community Garage Sale!
If you're as excited as we are, mark your calendars for this Saturday! The North Park Community Garage Sale kicks off at 8:00 AM and will be hosted at 2536 Dwight Street.
You can pick up a flyer with all the participants' addresses to help plan your treasure-hunting route.
Where: 2536 Dwight Street

Start t

ime: from 8:00 AM on till homeowners decide to pack up for the day.
Building Community Through Events
After speaking to Z on why they do these community events, she mentioned North Park is a vibrant and close-knit community, and they take pride in organizing events that foster connections among our residents.
Last month's "Paws and Portraits in the Park" was a roaring success, with over 100 people gathering with their furry companions for a day of fun and frolic.
The event featured delightful offerings such as delicious food, soul-stirring music, and the chance to get professional portraits taken of beloved pets, leaving cherished memories for all attendees.
This is what community building should look like for professionals. Clearly, Mary and Z could thrive in San Diego real estate with just focusing on their business, but this team does more human and more unique ways to bring together neighbors to bond.
This community organizing is great for local homeowners, the local economy, and great for best business practices in a more human centered world. 
Removing Treasures for Your Attic?
When the economy is hurting, getting up into the attic to dig up treasures to add to the community garage sale could be a good idea! While you are in the attic, be sure to consider getting an Attic Health FREE attic, garage, and crawl space inspection. 
Why Would You Need an Attic Inspection?
Does your attic concern you? If it does, this is the first reason you should get a professional in your attic! Some common concerns are pests and odor.
These 2 issues are the most common, but the more controllable issues are the efficiency of your HVAC and temperature control. If you like, take a look at our numerous blog postings on efficiency to your HVAC or insulation.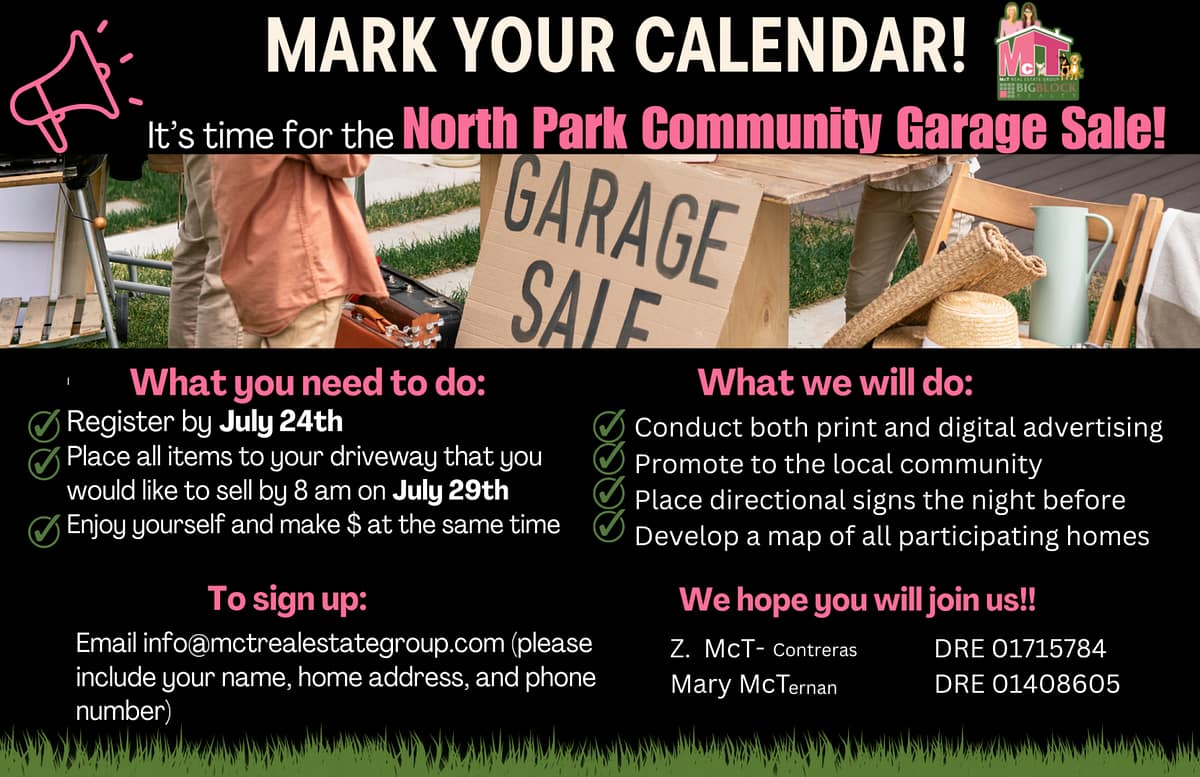 What to Expect at North Park Community Garage Sale: 
The North Park Community Garage Sale, set to take place this Saturday, is poised to be another outstanding event. 67+ neighbors have come together to participate!
Whether you're a seasoned bargain hunter or simply looking for unique treasures, this event will have something for everyone in the North Park Community. From household items, vintage collectibles, and clothing to toys, furniture, and electronics, you never know what hidden treasures you might find!
Community Engagement and Beyond
At the heart of this event is the spirit of community engagement and togetherness. We encourage everyone to visit the North Park Community Garage Sale, not just for the fantastic deals but also to meet new people and strengthen existing bonds.
Bringing neighbors together creates a sense of unity, and strengthens the fabric of the community. It's a chance to enjoy the warmth and hospitality that North Park is known for!
Promoting North Park Real Estate
While Mary and Z's main focus is to create a day of enjoyment and bonding, we wanted to recognize the importance of promoting North Park's community from the real estate professionals.
If you look up "North Park Real Estate," "North Park Realtor," and "North Park Real Estate Agent" you have probably already heard of McT Real estate Group. This team of real estate professionals knows how to engage with the community as well as get their business out there to the San Diego real estate market.  
Attic Health Wrap Up
The North Park Community Garage Sale promises to be a delightful occasion, brimming with opportunities to find hidden treasures, make new friends from local homeowners, and celebrate the spirit of San Diego local community.
If you are a professional in San Diego, consider following Mary & Z's leadership to create community benefits or events that raise awareness of your brand organically among local humans.
As we eagerly await this event, we are available to schedule Free attic inspections for your home! Call us today at (858) 289-6966! After you book your attic inspection, let's come together to make this event memorable, fostering a sense of unity that will resonate in North Park and in the San Diego Professional Real Estate community also!