Crawl Space Services: Maintaining a Clean and Dry Space
We have made many claims that you can keep pests out of your home forever with good maintenance, prevention and regular inspections. Truth is, if you see a pest in your home, you need to plan to remove it ASAP, or they make the home their home. Most homeowners don't like that!
If the crawl space goes unchecked, it can quickly become a space for moisture to build up, which leads to attracting pests, and a number of other problems such as mold or structural degradation from rot wood. The maintenance of the crawl space is essential, but keeping it dry and clean can be a real challenge.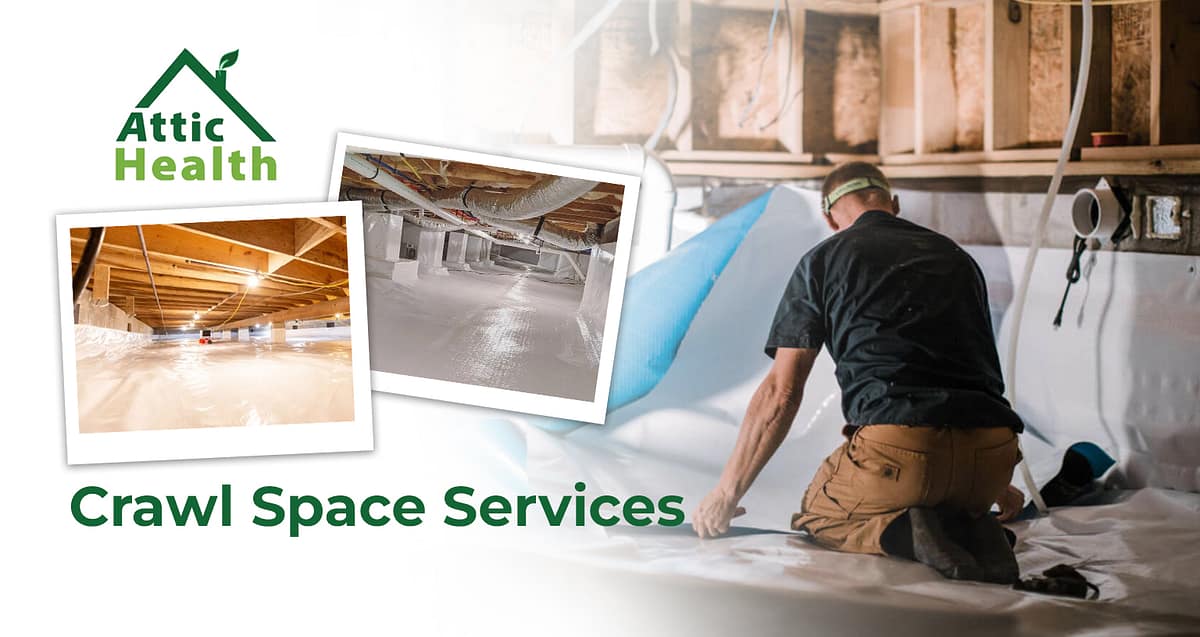 Common Crawl Space Issues & Their Impact On Your Home
Pests Destruction of Structures 
Pest Waste or Dead Bodies
Mud or Standing Water
Rot Wood and Rust
Mildew and Mold
Crawl Space Services & Solutions
While we offer many crawl space services, our services for crawl space encapsulation is one we do not currently have listed on the website! We are slowly working to better organize our website to fully present our crawl space services.
If you are seeking services for your crawl space, attic, basement or garage space, give us a call as we always start off with a free attic inspection. In our free inspection, we use the time to properly address all homeowner concerns, and see if we can over-deliver with value added from our knowledge and experience.
Often, making the right choice is the reason we will call an expert, and with some attic and crawl space services, the company provides a quote over the phone and shows up in one day to do the work. This includes inspection, implementation of solutions, insulation removal and new insulation install, additional sealing, and then the clean up. 
Crawl Space Services That Go Beyond
The Attic Health solution is different from most other San Diego attic insulation installers & crawl space services providers. Our attic and crawl space services are more thorough as we do a site visit with our free inspection, but then we spend 2 days on your home's attic project.
First, we come out for our inspection, which is about providing a quote, understanding the unique property needs, and learning about the homeowner's concerns. Day 1 is about the removal of all waste, the removal of old insulation, and preparations for the new insulation installation.
Day 2 is a clean day, where all the new clean insulation goes into your freshly cleaned attic, and final touches are made to make sure your home's attic is protected from rodents or any air leaks.
A properly maintained crawl space and attic contribute to a healthy home in many ways. After you have installed your new insulation and gotten your attic & crawl space all cleaned up, maintenance is the next step!
We suggest you plan to do a regular self-guided attic and crawl space inspection or plan to get professional inspections of your attic and crawl space at least annually.
What are the Benefits of a Crawl Space?
The crawl space's main benefit is that it acts as a barrier between moist soil and home occupants. This moisture is the nemesis for your home's structural integrity, you can read more about this battle in our moisture dangers, a recent blog. The crawl space is also the first line of defence against pests and heat.
The crawl space can be properly set up to keep pests out and maintained to keep heat and moisture controlled. You can learn more about the crawl space and attic basics on our terminology page. 
Why focus on crawl space maintenance?
As mentioned, the crawlspace is the front line in the battle against intruders, moisture, and air contaminants. If your crawl space is compromised, it can easily lead to structural problems such as mildew, mold, and rot wood for moisture problems; and pest infestations, pest damages, and health issues due to the pest problems.
The maintenance of the crawl space can be easy if you do it right from the beginning, but if you are still the host of a mess in the attic or have a pest problem that you let go of, we are here to handle it!
Let's jump on solving your attic and crawl space problems for good. Give the Attic Health team a call to consider getting attic or crawl space services!  (858) 289-6966